HUNGRY? YOU MIGHT AS WELL EAT WITH PEOPLE! JOIN US FOR LUNCH, FRIENDSHIP AND GOOD CONVERSATION
WANT AN OPPORTUNITY TO CONNECT WITH OTHER LADIES AND ENJOY DINNER? THERE WILL BE PRAYER, FOOD & CONVERSATION.
DREW & ELIZABETH BETOURNE
COME HANG OUT WITH US ON SATURDAY AFTERNOONS. WE WANT TO DO LIFE WITH YOU AND YOUR FAMILY!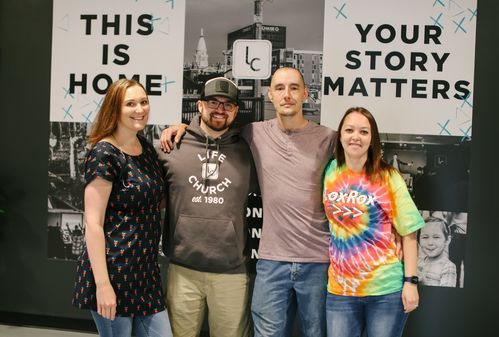 GROUP IS FULL
CALLING ALL MEN! WE'LL MEET FOR BREAKFAST AND BLACK COFFEE (BECAUSE THAT'S WHAT MEN DRINK).
BRING THE FAMILY! WE'LL EAT, HANG OUT AND CONNECT OVER WHERE WE ARE IN LIFE AND WHERE WE'RE HEADED!
GROUP IS FULL
JOIN US AND GET CONNECTED! WE'LL DEVELOP FRIENDSHIP AND STUDY GOD'S WORD.
DO YOU LOVE COFFEE & JESUS? IF SO, THEN YOU'VE FOUND YOUR PEOPLE! LET'S CONNECT OVER COFFEE & CONVERSATION.
GROUP IS FULL
JOIN US FOR A GREAT TIME OF GETTING TO KNOW ONE ANOTHER AND GROWING IN OUR RELATIONSHIPS.
At Life Church, we are not a church with Small Groups; we are church OF Small Groups. We believe that real life change happens best in a small group setting. We hope you'll get connected to a group.

Small Groups run in semesters 3 times per year
Semester 1: February - April (12 weeks)
Semester 2: June-July (6 weeks)
Semester 3: September - December (12 weeks)